Ping Me is a new and may i say very clever way for keeping track of your tasks/ideas/events. Create a message via gopingme.com, set the date and you'll receive an email or TXT straight to your phone reminding you. Creating pings are super simple and there's a few ways to make them. Create them from gopingme.com or straight from your cell.



Jott is the the ultimate mobile note taker. Basically Jott is a mobile transcription service that converts your voice notes into text to be sent to your email or a TXT message.




Together Ping Me and Jott create the ultimate 'never forget your stuff' team.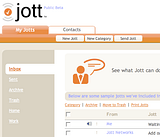 How it works together

Anyone who owns a cell phone knows how tedious it can be to type out full TXT messages. Jott and PingMe gives your thumbs a break. Rather than text PingMe, call Jott and record a message to PingMe. But this isn't like any message you know of. Using Jott's service your pings will be converted to text so they can be sent as a TXT message and an email.
Heres how it goes.
Call jott's 800 number (toll free)
Jott: Who'd you want to Jott
You: Go Ping Me
Jott: Beeeeeeep
You: Get Ninja Suit washed by thursday
And wait a few minutes later you've got a new ping to be sent to your cell phone and email. Easy Simple Done.
Opinion:
Many a times ive been out and about and an incredible idea has popped into my head. Previously if i lacked a pen i would rely on my brain, which seems to instantly forget the idea as fast as it popped up. Rarely do i got out without my cell phone, so when i heard about Jott i knew this would be very very useful. Ive now been able to record my ideas which doesn't have a track record of forgetting.
So naturally i'm a huge fan of Jott, and the integration with Ping Me only makes it better.
Learn More at ......
Ping Me
via Gopingme.com
Jott
via Jott.com